Candice, the wandering physician
candice, a good friend from medschool has always wanted to become a barrio doctor. so she signed up and went to far far bukidnon, away from her cars, away from her luxuries, away from the comforts of our everyday life. here's an edited journal entry of hers...
February 18, 2005
Health Bukidnon Office
Valencia City
After Limos, we then decided to kill time and just visit the nearby Buffallo area – a few minutes ride on the habal-habal. It was an exciting ride, the 4 of us (including the driver), almost huddled on the motorcycle seat. I marveled on the magnificent view of the green ricefields with the majestic mountains on the background while trying to control my dripping watery nasal catarrh because of the bumpy trip. When we got to our destination, the health workers greeted us warmly. They gave me a personal tour to the ricefields – it was harvest season. They showed me how the machine separated the wheat from the chaff. They also s howed me the different stages in the rice life cycle and the different rice varieties although it was really hard to absorb all of them. While waiting for lunch, we engaged in our usual small talk, our barrio talk. We talked about how hard they lived and how they had to budget their income from their produce. It was irritating that one of the barriofolk was taunting me just because I wasn't one of them. He sounded a little bit sarcastic saying my family was well-off and no matter what I do, I wouldn't understand the lifestyle of the poor people like them. That I wouldn't fit there. The health workers came to my rescue when they sensed what was happening. His comments made me feel bad.&nb sp; The more I felt I did not belong there because I'm part of the ignorant and/or oppressive petit bourgousie. It was partly true though, especially the ignorant part but then, that's the reason why I am here because I want to know. I want to experience. I want to help.
Sometimes I think it's true what Dr. Gene (from COMMED) said: we go here and have this messianic complex, thinking we can help the people and that we could make a difference. But then, when we're actually here, we realize that everything – every interaction, every problem is deeply rooted in tradition and culture and consciousness. We learn more from them than them from us. And we see that we don't need to save them because they can save themselves. We just have to make ourselves and other people aware that they exist and they have rights; much as we, the people in the city, living more comfortable lives , exist and have rights as well. Hopefully, that's when change can be brought about, and more importantly harmony.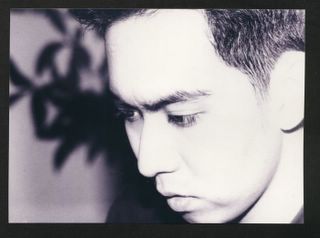 Raymund. Taken 3-4 years ago while studying at
Rina's
place. Always trying to loook candid but actually is very conscious of the the camera. An engineer turned doctor for, as he puts it, "a quest for higher learning. Doing Emergency Medicine residency training at the Makati Medical Center.