Goodbye "Classmates"...
My so-called "classmates" at mcdonalds and jollibee will soon be gone as this week is their final stretch. It will be lonely not having them noisy bunch around as I have learned to eavesdrop on their banters and jokes. Our so-called informal acquaintance has been upgraded to nods and smiles whenever we see each other. We transfer to the next fastfood outlet in groups.., well them in groups and me by myself, but we definitely acknowledge each other's presence. By Friday night I will be alone again save for the guard who, once in a while, interrupts my train of thought only to blurt out a corny joke to which I have to smile, lest he kicks me out of the outlet for overstaying with only a sundae cone to my bill. Yup, I will surely miss them.
But not to worry, lots of people frequent Mcdonalds. I shall, once again, content myself into weaving their life stories as I see them and listen to their private conversations. Like there was this onetime, a was couple seated at the next table, the lady holding a piece of paper looking worried. Why was she worried? Coz the guy she was having an affair with was actually married and the good wife got her revenge by way of the court order the girl was holding in her hands. Aha! Interesting. I could've found out more had they not left so early, feeling suspicious. And there was this other time, a bunch of ladies entered the door, dressed to kill, and sat guess where?? Beside my table again, of course. The noisiest of them all had on these really pair of tight fitting pants that hung really low below the waist. Oooh, sexy. But when she bent over to sip her coke, I couldn't help but notice (yes, couldn't help) the waistband of her panties peeking from where I was sitting. It was all bacon and overworn with the big tag SO-EN shouting at me. Well I guess it all boils down to underwear, huh? Big turn-off.
And a lot more stories that amuse me. A good icebreaker to my review.
So I guess I won't be lonely afterall.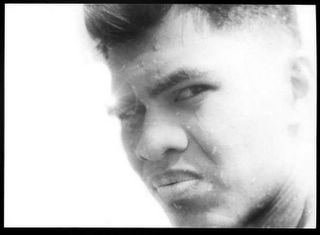 dB. candid shot taken at the ULTRA swimming pool. dB is moonlighting in some hospitals in Marikina and Antipolo. He will be taking up residency in internal medicine early next year.