Nightmares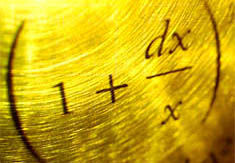 make me solve this. dx is diagnosis and x is a chromosome. period.

Has any nightmare continually haunted you?
I have one. It comes about once in four months.

I remember the last one. It started out with me in some classroom with green armchairs and numbers on the blackboard.… familiar…really familiar. Oh gawd, noooo!! I was in the UP Math Building. I was late and the old teacher was announcing an exam for the next day, and my palms start to drip. I had not been going to class for two whole weeks and kept no notebook, and didn't know where my TCWAG was. My previous exams haven't made it to the passing mark, actually my scores have been pubertal, and the dropping period had elapsed. I start biting my nails and grinding my teeth. And then I wake up in sheer terror, gasping for breath… well ok, not gasping, but you get the point.

Four years into medical school, and 1 year of internship, that's 5 years after my last Math subject, it still consistenly haunts me. And every time I visit the Diliman campus and pass by the Math building, the skies behind it darken, and thunderbolts abound, very much like the haunted house in Psycho.

The dreams haven't visited me yet since I became a doctor. But just thinking about it makes me all frantic and apprehensive again.

~awoooooooooooooo!!!!!!